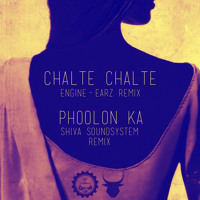 Listen on Soundcloud: https://soundcloud.com/engineearz/sets/for-nirbhaya
Free Download for all 4 songs: t.opsp.in/i1frz
Nerm is a DJ, broadcaster and music curator. Through his years of hosting radio shows on the BBC and setting up his own collective in East London, Shiva Soundsystem, Nerm has always kept a sharp eye and keen ear out for what's new and awesome in the music world.
One of his interesting projects was the music supervision for the 2010 British cinematic release, 'Everywhere and Nowhere'. While working on the music for the film directed by Menhaj Huda (Kidulthood), Nerm commissioned the uber-talented Prash Mistry of Engine-Earz to remix the song 'Chalte Chalte' from the 1972 Bollywood classic 'Pakeezah'. Prash recently reached critical acclaim in India appearing on the Season 3 premiere of The Dewarists on MTV www.youtube.com/watch?v=jXBTVlaEQ5s
The soundtrack to Everywhere and Nowhere, not surprisingly, quickly became a cult hit and is revered by music fans even today – especially as it was never released.

In July 2013, the significance of the song was changed forever. Against the backdrop of increasing concerns for women's safety in India, the internationally-acclaimed play Nirbhaya, was performed at the Fringe in Edinburgh this summer. The play begins with a few lines from the song which prompted Nerm to release the track, 'Chalte Chalte' – remixed by Engine-Earz to help bring attention to the production and the campaign to get the play to India in early 2014. The push on Kickstarter is in it's final few days.
"When I saw it in London before the cast headed to Edinburgh I was rocked to my core – it's one of the most poignant pieces of art I've ever seen. The play opened with lines from 'Chalte Chalte' and profoundly changed the way I hear the song. The emotions I felt are very well expressed by the Engine-Earz "Unheard Directors Cut" remix, which is why I insisted we release that version along side the highly sought after Cinematic version."
As well as the two versions of 'Chalte Chalte' by Engine-Earz, Nerm and Shiva Soundsystem cohort D-Code include their remix of 'Phool Ka Taron Ka', also made for the soundtrack to Everywhere and Nowhere and a bonus version that's never been heard before.
Shiva Soundsystem and Engine-Earz perform at Magnetic Fields, a new arts and music festival to be held at a 17th-century palace in Rajasthan in December (13-15).
Nirbhaya Kickstarter: www.kickstarter.com/projects/nirbha…s-theatre-india Organisations:
www.snehamumbai.org www.shaktishalini.org www.csrindia.org
Links: www.shivasoundsystem.co.uk www.engine-earz.com www.soundcloud.com/engineearz www.soundcloud.com/shivasoundsystem